Avril Lavigne - "Wish you were here" - Chords
Wish you were here by Avril Lavigne guitar Chords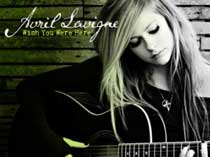 "Wish you were here" is the third single from Avril Lavigne's fourth album "Goodbye Lullaby" released in 2011. The song is written by Lavigne herself, Max Martin and Shellback. The song shows Avril Lavigne's vulnerable side. Use these guitar chords to play the song like Avril Lavigne!
"Wish you were here" is produced by Martin and Shellback. Those two are also responsible for playing the instruments on the song. Shellback takes care of drums, bass guitar and guitar. Max Martin handles the keyboards. Many regards "Wish you were here" as the definite highlight of the "Goodbye Lullaby" album. Have fun playing these guitar chords.
Related pages are Wish You Were Here Video Tutorial, Wish You Were Here Acoustic Chords, Sippin' On Sunshine (Ver3) Chords, Give You What You Like Tabs, Falling Fast Chords.
.
These 'Wish you were here' chords by Avril Lavigne also include lyrics.
Respect the tabbers, always rate and comment!
Tuning:
EADGBe
Avril Lavigne
Wish You Were Here
Goodbye Lullaby


Key: E


Chords used:
E -   022100
B -   x24442
C#m - x46654
A -   x02220
F#m - 244222
G# -  466544


Intro: E-- x2


Verse 1:
         E
I can be tough
          B
I can be strong
         C#m
But with you, it's not 
             A
like that at all
          E
There's a girl
             B
That gives a shit
            C#m
Behind this wall
              A
You just walk through it


Refrain:
               E
And I remember all those 
crazy things you said
    B
You left them 
running through my head
       C#m
You're always there
You're everywhere
    A
But right now I 
wish you were here
E
All those crazy things we did
B
Didn't think about 
it just went with it
       C#m
You're always there
You're everywhere
    A
But right now I 
wish you were here


Chorus:
B
Damn Damn Damn
What I'd do to have you
A
here here here
(I wish you were here)
B
Damn Damn Damn
What I'd do to have you
A
near near near
(I wish you were here)


Verse 2:
  B
I love the way you are
           C#m
It's who I am
                  A
Don't have to try hard
     E
We always say
               B
Say it like it is
        C#m
And the truth
                 A
Is that I really miss


Refrain 2:
E
all those 
crazy things you said
    B
You left them 
running through my head
       C#m
You're always there
You're everywhere
    A
But right now I 
wish you were here
E
All those crazy things we did
B
Didn't think about 
it just went with it
       C#m
You're always there
You're everywhere
    A
But right now I 
wish you were here


(Repeat Chorus)


Bridge:
C#m 
   No   I don't want to let go
B
   I just wanna let you know
C#m
   That I   never 
            B
wanna let go Let go oh oh
C#m 
   No   I don't want to let go
B
   I just wanna let you know
A
   That I never 
            C#m---(hold)
wanna let go  Let go


Back Up sing: Ohhh


(Repeat Chorus twice)


Outro:
End on