Grace Jones tabs and chords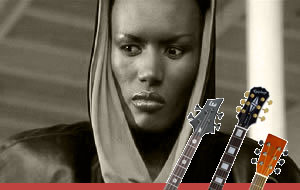 Grace Jones, with CDs like Portfolio and Muse, is a Jamaican singer, actress and model. Grace Jones guitar chords and tabs for Breakdown, La vie en rose and many other classics. Delivering Pop and New Wave to all the fans since 1973.
She is most famous for her acting in a James Bond movie, but also for her albums like Warm Leatherette from 1980 and Slave to the Rhythm five years later.
Grace Jones guitar tabs and chords
Submit Grace Jones guitar tabs here
Grace Jones bass tabs