Alan Jackson tabs and chords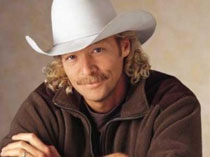 Alan Jackson was born October 17 1958 in Newnan, Georgia. He is a country music singer who has recorded several successful albums and more than 50 hit singles. Jackson is a member of the Grand Ole Opry, he is inducted into the Georgia Music Hall of Fame and has won numerous CMA and Grammy awards. Alan Jackson grew up listening to gospel music and has released one album in that genre. Jackson started singing in church at a young age and also learned to play the guitar as a child. Use these Alan Jackson guitar tabs and chords to play his country music classics.
Alan Jackson's debut single, "Blue blooded woman" was released in 1989. The single had no chart impact. His second single "Here in the real world" reached number 3 on country charts in 1990. This was the first single of his debut album with the same name. That album produced to more top five hits. His first number one was "I'd love you all over again". Alan Jackson still stays connected to his hometown and has given back to the community where he grew up. In aprecation the city of Newnan has named its major highway "The Alan Jackson highway".
Alan Jackson guitar tabs and chords
Submit Alan Jackson guitar tabs here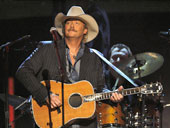 Alan Jackson relies on his backing band to provide instrumentation for his music. It currently features 8 members of which 5 plays various guitars. Alan Jackson also plays guitar but seldom on stage.
Alan Jackson's backing band has one bass guitar player, 2 acoustic guitar players, one lead guitar player and one steel guitar player! This enables Alan Jackson to focus solely on singing on stage!
Alan Jackson bass tabs
Submit Alan Jackson bass tabs here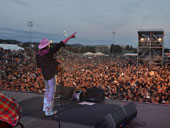 Roger Wills is the current bass player in Alan Jackson's backing band.