Guns N' Roses - "Patience" Guitar tab
This is an acoustic song on Guns n'r Roses 1989 album "Lies" it was usually played with electric guitars live. Feel free to use whatever instrument you like when playing these Guns n' Roses Patience guitar tabs. The lyrics is about Axl Rose and his trouble with his wife at the time.
You need to tune your guitar a half step down to match the version on the "Lies" album. The timing in the Guns n' Roses Patience guitar tabs below is not accurate so you need to listen to the song when learning it. It is written like this so the tabs should be easier to understand. The music and lyrics is written by Izzy Stradlin while Axl Rose has added some to the words.
Related pages are
Patience (Ver2) Tabs
,
Patience Chords
,
November Rain Acoustic Chords
,
Paradise City Tabs
,
Knockin On Heavens Door Tabs
.
. .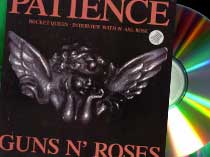 Patience - Guns n' Roses
Album - Lies
Words and music by W. Axl Rose, Slash, Izzy Stradlin', Duff McKagan
and Steven Adler


                Chord chart:
                           E A D G B e &lt-----Strings
Chords----------&gtC.........X 3 2 0 1 0
            |    G.........3 2 0 0 3 3
            |    A.........X X 2 2 2 0
            |    Em........0 2 2 0 0 0
            |    D.........X X 0 2 3 2
            |    Dsus4.....X X 0 2 3 3
            ----&gtDsus2.....X X 0 2 3 0



Intro:
The chords over this intro part are: C - G - A - D
			             C - G - C - Em
			             C - G - D - D


e|----------------10-------------------------------------------------------
B|--------8-10/12----12\10-8-10--12-13-14-15-12----------------------------
G|-5p4-5----------------------------------------14bh-12--14p12-14~~--------
D|-------------------------------------------------------------------------
A|-------------------------------------------------------------------------
E|-------------------------------------------------------------------------


e|------------------10----8-----7-----5\3-----3----------------------------
B|-12h13-14------/7----/5----/5----5-------3-------------------------------
G|-12h13-14----------------------------------------------------------------
D|-------------------------------------------------------------------------
A|-------------------------------------------------------------------------
E|-------------------------------------------------------------------------

Verse:

the chords in the verse are just C - G - A - D played twice. The D is
played normal then the little fill of D-Dsus2-D-Dsus4-D-Dsus2-D is
played, which is just:

e|--2--0--2--3--2--0--2
B|--3--3--3--3--3--3--3
G|--2--2--2--2--2--2--2
D|--0--0--0--0--0--0--0
A|---------------------
E|---------------------
(updated 1-3-02 jedi77!)


Chorus:
The chorus is just C - G - A - D
                   C - G - D (followed by the same fill as in the verses)

The second time you play this in the chorus you play the little D fill
twice and if memory serves me correctly you play the following lead
fill aswell.

e|-----10-----------14-----------------------------------------------------
B|-/7----------/10---------------------------------------------------------
G|-------------------------------------------------------------------------
D|-------------------------------------------------------------------------
A|-------------------------------------------------------------------------
E|-------------------------------------------------------------------------



Guitar Solo:
updated 1-3-02:jedi77!
         C         G                   C         Em

e|--8p7-|8--8/10-5h7-5------------8p7-|8-8/10-10/12----8p7-|
B|------|--------------8-7-8----------|--------------------|
G|------|-----------------------------|--------------------|
D|------|-----------------------------|--------------------|
A|------|-----------------------------|--------------------|
E|------|-----------------------------|--------------------|

  C         G          D

e|8--8/10-5h7-5-------|/12-10-10--10--/14-12-----------------|
B|--------------8--8-8|-----------------------15-15----------|
G|--------------------|--------------------------------------|
D|--------------------|--------------------------------------|
A|--------------------|--------------------------------------|
E|--------------------|--------------------------------------|

 C                 G
e|----0-3----------------3-------|
B|3/5-----5\3-1-3--2/4-4---2hb-0-|
G|-------------------------------|
D|-------------------------------|
A|-------------------------------|
E|-------------------------------|



  C              Em                 C        G              D

e|------3-----------3-5^3------3-5-|5^-5-5-3-5b-3-5--3-5-3-5b-5-5---------
B|3/5-5---5\3-1-3/5--------5-------|--------------------------------------
G|---------------------------------|--------------------------------------
D|---------------------------------|--------------------------------------
A|---------------------------------|--------------------------------------
E|---------------------------------|--------------------------------------


Rhythm Guitar plays this fill and slows down (rittardando) leading into the
Outro
|
| e|--2--0--2--3--2--0--2
| B|--3--3--3--3--3--3--3
| G|--2--2--2--2--2--2--2
| D|--0--0--0--0--0--0--0
| A|---------------------
| E|---------------------


Outro:

The outro is just D - G played over and over with the singing, there's
and outro solo too I
think, but I never bothered figuring it out, you can just improvise with
the G major scale. Updated 1-3-02 jedi77!
|-3-2-------------|--2--|
|-----3-----------|--3--|
|-------2-0-------|--2--|
|-----------4-0---|--0--|
|-----------------|-----|
|-----------------|-----|