Guns N' Roses - "Its so easy" Guitar tab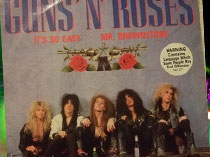 This is the first single from the first Guns ní Roses album. Although the song was not a hit with eighty-four as its peek position it was a warning of what would come. It was originally written for an acoustic guitar but was later changed to a rock song going all electric. You may use whatever guitar you like when playing these Guns ní Roses Itís so easy guitar tabs.
Before the band hit the big stage they had a time with very little money and nothing to do. At the same time, girls where all around them and they thought that this was way too easy for a underground band like they where at the time. A video was shot for the song but as they became more and more popular a new version was released with girls in bikinis. Check these complete Guns ní Roses Itís so easy guitar tabs. The song was never a big hit for Guns ní roses and the song were not released as a single in America.
Related pages are
It s so easy bass tabs
,
November rain acoustic chords
,
Paradise city tabs
,
Knockin on heavens door tabs
,
Sweet child o mine tabs
.
. .
This 'Its so easy' by Guns N' Roses guitar tab also include lyrics.
Chords Used:
 E5    E5(2)  Bb   A5   G5   Esus#4  Esus4
 |-|   |-|    |-|  |-|  |-|  |-|     |-|
 |-|   |-|    |-|  |-|  |-|  |-|     |-|
 |-|   |9|    |-|  |-|  |-|  |3|     |2|
 |2|   |9|    |8|  |7|  |5|  |2|     |2|
 |2|   |7|    |8|  |7|  |5|  |2|     |2|
 |0|   |0|    |6|  |5|  |3|  |0|     |0|


 D5   D5/C5  B5 
 |-|  |-|    |-|    |-|  |-|
 |-|  |-|    |-|    |-|  |-|
 |7|  |7|    |-|    |-|  |-|
 |7|  |7|    |5|    |4|  |9|
 |5|  |4|    |5|    |4|  |9|
 |-|  |-|    |2|    |2|  |7|

Moderatley Fast= 152

Rythm fig1 (play 2 1/2 times)
|---------------------------------------------------|
|---------------------------------------------------|
|---------------------------------------------------|
|---------------------------------------------------|
|---------------------------------------------------|
|-5h7--7-5h7--7-5h7-7-7-5h7-7-7-5h7--7-5h7--7-5h7--7|
p.m.................................................

 E E5
|---------------------------------------------------|
|-------------------------------------------12------|
|-------------------------------------------12------|
|-------------------------------------------12------|
|---------------------------------------------------|
|---------------------------------------------------|

   E    E5(2)
|---------------------------------------------------|
|-(12)-----------12-(12)-------------12-------------|
|-(12)-----------12-(12)-------12----------12---(12)|
|-(12)-----------12-(12)-------12-------------------|
|---------------------------------------------------|
|---------------------------------------------------|

1st, 2nd, 3rd Verse
W/Rhy. Fig. 2a 1st & 2nd times
W/Rhy. Fig. 2b 3rd time

Rythm Fig. 2A:play 4 times
|--------------------0---0-0------------------------|
|--------------------0---0-0------------------------|
|-3--3s2-0-0------------------3s2p0-----------------|
|-3--3s2-0-0------------------3s2p0-----------------|
|-------------2-(2)---------------------------------|
|-------------0-(0)----0----------------------------|

Rythm fig. 2B:Play 4 times
|---------------------------------------------------|
|---------------------------------------------------|
|---------------------------------------------------|
|-----------------------------2---------------------|
|---------------------------2---1-0-----------------|
|-5b-5r-3~~~~-o-(0)-0--3h4--------------------------|


Rhy fig 2: 4 times

Bb5    A5 G5   E  E5(2)                       Bb5   
                  I see your sis - ter in her sun - day

A5    G5    (E)  E5
 Dress.          She's out to.......


Chorus:
w/Rhy. Fig.3A


Rhy fig. 3A: Play 4. times
|--5-5-3-5---6p5p3p0--0-0-(0)-----------------------|
|--5-5-3-5---6p5p3p0--0-0-(0)-----------------------|
|---------------------------------------------------|
|---------------------------------------------------|
|---------------------------------------------------|
|---------------------------------------------------| 

Rythm Fig 3: 4 times                      slide 
A5     G5  A5  Bb5         E          Esus#4 Esus4
               It's So     Eas    -   y,        

p.m         slide
E      Esus#4    Esus4
Eas    -   y................


Bridge

W/rythm fig 4:2 times

|---------------------------------------------------|
|---------------------------------------------------|
|------------------------0-0--0----0-0--0-----------|
|---0--0--0---0--0--0---4-4-------1-1---------------|
|--0--0------2--2------2-2--2----0-0--0-------------|
|-2--2--2---3--3--3---------------------------------| 

D7F#             G         B5addb6
Eas      -       y       But noth-in'__ seems__ to__

 A5(7)
please__ me.   It all____......



Repeat
|--------------------------------------------------------------|
|--------------------------------------------------------------|
|--------------------------------------------------------------|
|--------------------------------------------------------------|
|-----5h7-5h7---------5h7-----5h7--------5h7---------5h7----5h7|
|-0-0---------0-0-0-0-----0-0-----0-0-0-0-----0-0-0-0----0-0---|
Pm...         .......     ...     .......     .......    ...     
   
|---------------------------------------------------|
|---------------------------------------------------|
|---------------------------------------------------|
|---------------------------------------------------|
|------------7-7-7--5-------------------------------|
|-0-0-0-0-0-----------7--5--------------------------|
pm.........

N.C
See me hit you, you fall down


W/rythm fig 5A:Play 4 times
|-----------------------0-0---------0----------------|
|-----------------------0-0--3-3s5--0----------------|
|-7---7-5-7------------------2-2s4-------------------|
|-7---7-5-7--5-4-2-(2)-------------------------------|
|-5----------5-4-2-(2)-------------------------------|
|----------------0-(0)-------------------------------|

Rhy fig 5:4 times
D5   D5/C E5  E5(2)
                           I see you stand-in'  there......

Guitar Solo1: w/ rhy fig 2: 4 times

I don't the chords here cause they are the same as in 
rhy fig 2!! 
|------------------------------------------12-------|
|-17hb-----17~~-(17)-17fb-(17)s--15fb-(15)----15p12-|
|--------------------17hb-(17)s---------------------|
|---------------------------------------------------|
|---------------------------------------------------|
|---------------------------------------------------|
 
|---------------------------------------------------|
|--------------12-----------------------------------|
|-14fbr--12-14---12-(12)~~------------------12--14--|
|----------------------------14--14----14-----------|
|---------------------------------------------------|
|---------------------------------------------------|

|---------------------------------------------------|
|-12---12---12-------12---------12------------15~~--|
|----15---15---15-14-----15-14------12hb------------|
|-----------------------------------------14--------|
|---------------------------------------------------|
|---------------------------------------------------|

|--------------------------------------------------------|
|-14hb-(14)r--14hbr-14hbr--------------------15fb~~-(15)s|
|--------------------------12----------------------------|
|-----------------------------14-14--(14)-14-------------|
|--------------------------------------------------------|
|--------------------------------------------------------|

Coda W/rhy fig 4: two times

F#5        G5              B5                     A5
Come with_ me.   Don't ask__ me where__ cause' I don't know._

       F#5             G5                 B5
I'll__ try__ to__ please_ you.  I ain't got no money but it 

A5
goes to show


Outro solo W/rythm fig 2: 8 times
 rake           rake
|------15--12-------10----(10)~~~~(10)s----------0--|
|----"------------"-10fb--(10)----(10)s-2fb--(2)----|
|---"------------"----------------------------------|
|--"------------"-----------------------------------|
|---------------------------------------------------|
|---------------------------------------------------|

|---------------------------------------------------|
|--3p0----------------------------------------------|
|------2fbr(2)p0------------------------------------|
|----------------2--2~~(2)~~-2--5fbr----------------|
|---------------------------------------------------|
|-------------------------------------5-(5)slowfb---|

|---------------------------------------------------|
|---------------------------------------------------|
|---------------------------------------------------|
|---------------------------5hb---------------------|
|-----------------5hb--7--5-------7-7-(7)-7-7---5hb-|
|-3-(3)-5fb--3-0------------------------------7-----|

|---------------------------------------------------|
|---------------------------------------------------|
|------------------------7--9p7---7-(7)-9--9-----7hb|
|----7s8s7p5-7p5-----7s5--------9-------------9-----|
|-7--------------7-5--------------------------------|
|---------------------------------------------------|
pm                          .....       ......

|---------------------------------------------------|
|--------8hb----------12-15-------------------------|
|-9---9----------14fb-------14fbr-12--14fb---15--12-|
|---------------------------------------------------|
|---------------------------------------------------|
|---------------------------------------------------|

|--------------12-----------------------------------|
|-----------------15--14h15p14p12---14---12---------|
|-14fb(14)rp12------------------------------14p12---|
|---------------------------------------------------|
|---------------------------------------------------|
|---------------------------------------------------|

|---------------------------------------------------|
|---------------------------------------------------|
|-14-(14)fb--14fb----14--13h14p13------12-----------|
|-----------------14---------------14---------------|
|---------------------------------------------------|
|---------------------------------------------------|
p.m               ..

|---------------------------------------------------|
|-14hb(14)rp12----14--------------------------------|
|--------------14----12-----------------------------|
|-----------------------14-14s12-12s8-7-7s5--(5)----|
|---------------------------------------------------|
|---------------------------------------------------|

|---------------------------------------------------|
|---------------------------------------------------|
|---------------------------------------------------|
|--------------8--7--5------------------------------|
|-----------------------7---------------------------|
|--3s(17)s-----------------6--5--3hb--0----(0)------|

|---------------------------------------------------|
|---------------------------------------------------|
|-9-9----7-----9------------------------------------|
|-9-9----7-----9-----8--7--5------------------------|
|-7-7----5-----7--------------7---------------------|
|-----7-----0----0---------------6--5--3hb--0----(0)|
p.m  ..     ..   ..

|---------------------------------------------------|
|---------------------------------------------------|
|-9-9----7-----9------------------------------------|
|-9-9----7-----9-----8--7--5------------------------|
|-7-7----5-----7--------------7---------------------|
|-----7-----0----0---------------6--5--3hb--0----(0)|
p.m  ..     ..   ..
|---------------------------------------------------|
|---------------------------------------------------|
|-9-9----7-----9------------------------------------|
|-9-9----7-----9-----8--7--5----------------2----(2)|
|-7-7----5-----7--------------7-------------2----(2)|
|-----7-----0----0---------------6--5--3hb--0----(0)|
p.m  ..     ..   ..

fb = full bend hb = half bend 
fbr = full bend and release
r = release