Guns N' Roses tabs and chords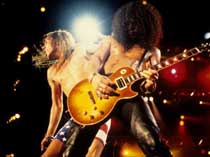 Guns n Roses was formed in Hollywood in 1985 and led by Axl Rose who is now the only consistent and original member. Their debut Appetite for Destruction, has sold more than 28 million copies worldwide and reached No. 1 on the states. Most of their best known songs are from this album and you will find Guns n' roses tabs to them all here.
Guns N' Roses signed with Geffen the same year as their inception and topped the charts weeks after garnering late hours airplay on MTV. Appetite for Destruction is the highest-selling debut CD of all time. The band have released a few albums since and changed their lineup every now and then. Guitar and bass is two keywords to use when describing the music. It is, as you can see in the Guns n' roses tabs below, a fusion of punk, blues, heavy metal and hard guitar rock.
Guns N' Roses guitar tabs and chords
Submit Guns N' Roses guitar tabs here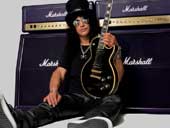 Guitar World magazine ranked the solo in "November Rain" number six on their "100 greatest guitar solos" list while Total Guitar magazine placed the opening riff of "Sweet child o' mine" at the top of their "100 Greatest Riffs" list. Yes, these Guns n' roses guitar tabs are worth to study both for novices and experts.
The band have had their guitarists come and go and while Richard Fortus, Ron Thal and DJ Ashba is their current axemen, Izzy Stradlin and Slashare those who pained the band with their own colors. They are all represented in the Guns n' roses tabs here. Slash has more than 100 guitars in his collection with a 1959 Gibson Les Paul Standard replica as his favourite. He has collaborated with Gibson guitars on ten signature Les Paul models.
Guns N' Roses bass tabs
Submit Guns N' Roses bass tabs here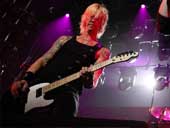 Duff" McKagan was the bass player for the first twelve years after the debut. McKagan's best friend on stage was a Japanese Fender Jazz Bass Special, which features an ash body, a maple neck, and a rosewood fretboard. He is now often seen with a Kramer bass, and he has a Kramer endorsement. See the Guns n' Roses bass tabs below.
Current bass player Tommy Stinson joined Guns n' Roses in 1998. It took ten years before he appeared on an album with the band when "Chinese democracy" saw the light of day. Tommy plays several punk songs during his solo spot in concerts. He is using a Fender Precision Bass Special which is set up with the P/J pickup configuration. All his basses have EMG pickups. Guns n' Roses bass tabs for both studio and live songs are listed below.