Davy Graham tabs and chords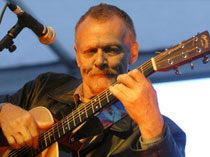 Davy Graham was a British guitarist and one of the most influential folk revival figures in the 1960s. He was a huge influence in the 60s, including Paul Simon and Jimmy Page, and still are a huge name among guitarists. Seeing these Davy Graham guitar tabs and you will understand why. Graham is famous for his acoustic instrumental pieces, including Anji, and was a pioneer using the DADGAD tuning now copied by many big names.
Davy was not in the business for fame and fortune and often played concerts for free if it was for a good cause. His first release was in 1962 and he did record all the way up to "Broken Biscuits" which was released in 2007, only a year before he died of lung cancer. You will find Davy Graham tabs to his most famous songs here.
Davy Graham guitar tabs and chords
Submit Davy Graham guitar tabs here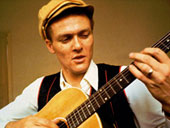 What Davy Graham gave to the guitar community is the DADGAD tuning. He discovered it while looking for some old traditional folk music in Morocco and took it back with him and introduced it in England in the early sixties. He then started to play traditional folk songs with this tuning. Keep this in mind when playing these Davy Graham guitar tabs.
The reason why he choose to use this tuning, as you can see in the Davy Graham guitar tabs here, is that it allows the guitar player to improvise on the high notes while playing a solid rhythm on the bass strings.
Davy Graham bass tabs
Submit Davy Graham bass tabs here