Finger Eleven tabs and chords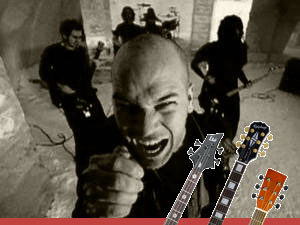 Finger Eleven, play the classic songs, is a Canadian rock band from Burlington, Ontario, formed in 1989. To get more information about Finger Eleven point your browser to fingereleven.com. With good tunes like Stone soul and Living in a dream, new music are still made, played and released.
Finger Eleven guitar chords and tabs for 'Living in a dream', 'Stone soul' and many other classics. Finger Eleven saw the light of day in 1989, and have given us classics like The Greyest of Blue Skies and Letters from Chutney.
Finger Eleven guitar tabs and chords
Submit Finger Eleven guitar tabs here
Finger Eleven bass tabs