Lana Del Rey - "Video games" Chords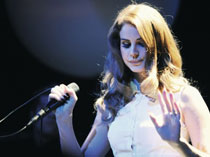 Lana Del Rey's "Video Games" became a massive break through hit in October 2011. The video that at first accompanied the song was made up of vintage video clips Lana had found on YouTube and assumed to be free. They were not and Lana was threatened with legal actions and her video was removed from YouTube. Use these guitar chords to master the sound and style of Lana Del Reys "Video Games".
The Video Game referenced in Lana Del Rey's song is World of Warcraft. Some has pegged her as an anti-feminist because of lyrics like "He holds me in his big arms. Drunk and I am seeing stars. This is all I think of." Lana herself denies this. Play the songs with these guitar chords.
Related pages are
Video games (ver3) chords
,
Video Games (Ver2) chords
,
Young and beautiful chords
,
American chords
,
Children of the bad revolution chords
.
. .
Verse: 
Em              G
Swinging in the backyard
Em              G
Pull up in your fast car
B            C
Whistling my name

Em        G
Open up a beer
        Em           G
And you take it over here
           B     C
And play a video game

    Em              G
I'm in his favorite sun dress
Em              G
Watching me get undressed
B              C
Take that body downtown
Em            G
I say you the bestest
Em            G
Lean in for a big kiss
B                C
Put his favorite perfume on
          B     C
Go play a video game

C
It's you, it's you, it's all for you
Everything I do
                   Em
I tell you all the time
                                G
Heaven is a place on earth with you
                                   Em
Tell me all the things you want to do
I heard that you like the bad girls

C
Honey, is that true?
                             G
It's better than I ever even knew
                                      Em
They say that the world was built for two
                     G                  B
Only worth living if somebody is loving you
             Em
Baby now you do

(Repeat Verse: Em/G/Em/G/B/C)

Singing in the old bars
Swinging with the old stars
Living for the fame

Kissing in the blue dark
Playing pool and wild darts
Video games

He holds me in his big arms
Drunk and I am seeing stars
This is all I think of

Watching all our friends fall
In and out of Old Paul's
This is my idea of fun
Playing video games

C
It's you, it's you, it's all for you
Everything I do
                   Em
I tell you all the time
                                G
Heaven is a place on earth with you
                                   Em
Tell me all the things you want to do
I heard that you like the bad girls

C
Honey, is that true?
                             G
It's better than I ever even knew
                                      Em
They say that the world was built for two
                     G                  B
Only worth living if somebody is loving you
             Em
Baby now you do

(Now you do)

Instrumental Break, Repeat Verse 2x
(Em/G/Em/G/B/C)

C
It's you, it's you, it's all for you
Everything I do
                   Em
I tell you all the time
                                G
Heaven is a place on earth with you
                                   Em
Tell me all the things you want to do
I heard that you like the bad girls

C
Honey, is that true?
                             G
It's better than I ever even knew
                                      Em
They say that the world was built for two
                     G                  B
Only worth living if somebody is loving you
             Em
Baby now you do


Same Verse for Outro