Coldplay tabs and chords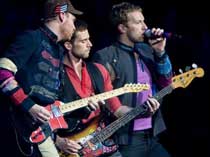 Coldplay are a pop band from London, UK. They were formed in 1996 by singer Chris Martin and fellow student Jonny Buckland who became the band's lead guitarist. They went through a few name changes before arriving at the name Coldplay in 1998. By that time bass guitar player Guy Berryman and drummer Will Champion had joined the band, completing the line-up. Coldplay became famous after the release of the "Yellow" single in 2000. Use these Coldplay guitar chords and guitar tabs to get the sound right.
Coldplay has had several hit albums and singles since 2000. All albums have had considerable success. The band has won several Brit Awards, MTV awards and numerous Grammys. They are one of the world's top selling bands, having sold well over 50 million records. So if fame and money is what you are after you should definetly use these Coldplay tabs and chords to learn to master Buckland's stylish guitar sound.
Coldplay guitar tabs and chords
Submit Coldplay guitar tabs here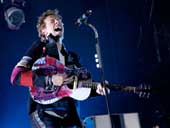 Jonny Buckland plays lead guitar. He started playing guitar when ha was 11. Early influences and inspirations were The Stone Roses, Ride, My Bloody Valentine and other alternative guitar bands. Buckland is famous for his trademark guitar playing style, sparse arrangements and frequent use of slide. His guitar playing often has a ringing sound. You should take that into account while trying to master these Coldplay guitar tabs and guitar chords.
While playing guitar for Coldplay, Buckland is noted for playing Fender Thinline Telecaster, Gibson Les Pauls, Fender Jazzmaster, Gibson ES-335, Fender Stratocaster and Fender Jaguar. You can of course play the provided Coldplay guitar tabs and guitar chords on any guitar you like!
Coldplay bass tabs
Submit Coldplay bass tabs here
Guy Rupert Berryman is the bass player for Coldplay as well as Appartjik. He usually sticks to playing the Fender Precission Bass or the Fender Jazz Bass.
Guy is a fan of the 80s pop group a-ha and has collaborated with that band's Magne Furuholmen on his solo album. Get your chunk of Coldplay bass tabs here.