Coeur De Pirate tabs and chords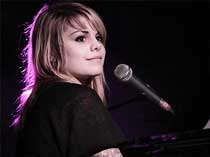 Coeur de Pirate is the stage name of Canadian singer-songwriter Béatrice Martin. Béatrice was born in Montral, Quebec on September 22, 1989. She was born a musical talent and learned to play the piano when she was only 3. She started playing in bands when she was 15. She releases her debut album, also named Coer de Pirate, in 2008. She started getting media attention and fan following in 2009. Her second album, Blonde, was released in 2011. We hope you will enjoy our collection of Coeur de Pirate guitar tabs and guitar chords. Have fun!
In 1989 there was some controversy around Béatrice as it was revealed she had been a model on GodsGirls, an alt-porn web site when she was till a minor. Coeur de Pirate has by some been labeled as the Indie It-girl.
Coeur De Pirate guitar tabs and chords
Submit Coeur De Pirate guitar tabs here
Coeur De Pirate bass tabs
Submit Coeur De Pirate bass tabs here