Eric Clapton - "Wonderful tonight" Guitar tab
One of Clapton's most played ballads, both at homes and on the radio. It was written and released in 1977 on his Slowhand album but was not a big hit at the time. The popularity has grown since then and is today one of his most known tunes. Here are the Eric Clapton Wonderful tonight guitar tabs.
The song is about his then girlfriend Pattie Boyd and was written while Eric was waiting for here to get ready to go to a party together with Paul McCartney and his wife Linda. Playing these Eric Clapton Wonderful tonight guitar tabs for a girlfriend has always been a success. The album Slowhand reached number two on the Billboard charts and includes three of his most popular singles.
Eric Clapton guitar tab and guitar video lesson for Wonderful tonight. Learn how to play Wonderful Tonight by Eric Clapton. Related pages are Wonderful tonight acoustic (Ver2) tabs, Wonderful tonight acoustic chords, Wonderful tonight (Ver3) chords, Wonderful tonight acoustic tabs, Wonderful tonight (Ver2) chords. . .
This 'Wonderful tonight' by Eric Clapton guitar tab also include lyrics.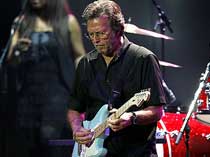 There were a few replies to me for the tab of Wonderful Tonight, so I typed it up last night, and I figured I might as well post it.

The following is MY rendition of Eric Clapton's Wonderful Tonight's guitar
solos/licks as it almost is on the 24 Nights album.  See my post of the chords
for this song to see where these things go.  Note values(durations) were not
included, because I can't figure them out.  I just go by feel, and I suggest
people listen to the tape/cd and determine how this should sound (and make the appropriate modifications as necessary).

Wonderful Tonight
By Eric Clapton

Guitar theme (can be played 8va higher if you have 24 frets on your guitar, you would start on the 2nd string (B) on the 15th fret and play the same melody):

         full               full             full      VVV
e------------------------------------------------------------------------------
B--------^_-----------------^_---------------^_--------------------------------
G-----14_|-|-12-14-------14_|-|-12--------14_|-|-12-14-12-11-------------------
D--12------V----------12------V----14--12------V-------------14-12-12----------
A------------------------------------------------------------------------------
E------------------------------------------------------------------------------


         full               full             full               1/2   VVVV
e---------------------------------------------------------------^_-------------
B--------^_-----------------^_---------------^_--------12-13-17_|-|-15---------
G-----14_|-|-12-14-------14_|-|-12--------14_|-|-12-14------------V------------
D--12------V----------12------V----14--12------V-------------------------------
A------------------------------------------------------------------------------
E------------------------------------------------------------------------------

footnote 1:			footnote 2:		footnote 3:
  C				D          G		D        C
e----------------------------	---------------------	---------------
B----_----1------------------	---------------------	----------_----
G---/-\-----0----------------	---------------------	---------/-\---
D--0---2---------------------	---------------------	--------0---2--
A----------------------------	---------------------	---0-2-3-------
E----------------------------   ------0-3------------	---------------
            She's wondrin'...   wear.		    ...hair           

Guitar solo:
     1/2 VVVVVVVVVV                     1/2 VVV            _          1/2 
e----^_--------------------------------------------_------/-\---------^_--
B-17_|-|-15-15-15--13-12----------------^_--------/-\---12---13-15-17_|-|-
G------V-----------------14-12-------14_|-|-12--12---14-----------------V-
D------------------------------14-12------V-------------------------------
A-------------------------------------------------------------------------
E-------------------------------------------------------------------------
     1/2                                                              full
     ^_                _              VVVVVVV                         ^
e-17_|-|-15-----------/-\---------^_-------------------------15-17-19_|---
B------V----17--15--12---13-15-17_|-|-15--15-----------15-17--------------
G-----------------------------------V--------------12---------------------
D--------------------------------------------12-14------------------------
A-------------------------------------------------------------------------
E-------------------------------------------------------------------------

     VVVVVVV                        1/2   VVVVV
e-17-15-15--------------------------^__-----------------------------------
B--------------_------------12--17__|--|--15------------------------------
G-------------/-\---12--14-------------V----------------------------------
D-----------12---14-------------------------------------------------------
A-------------------------------------------------------------------------
E-------------------------------------------------------------------------


footnote 4:		notation:
							1/2
e----3--3-2----		 _                               ^
B----3--3-3----		/ \  : hammeron or pulloff	_|   : bend up 1/2 step
G----2--2-2----
D----0--0-0----		full				 ^_
A--------------		 ^   : bend up one full step	_| | : bend up then
E--------------		_|				   V   reverse bend back
...head
			VVVV : vibrato

Finish off the song with the guitar theme and a little blues run in the same
G scale.

Ivans

-- 
|Ivans S. Chou------------------e-mail:-----------------||---"Wholly devoted---
|Boston University		ichou@acs.bu.edu      ==  ==  to live and to  |
|College of Engineering		ichou@csa.bu.edu        ||    die for the sake|
|Intelligent Systems Lab________ichou@helmholtz.bu.edu__||____of the call"____|