Eric Clapton - "Tears in heaven" Guitar tab
Tears in heaven is one of Claptons most popular songs. There are two different versions. The original version was on the Rush soundtrack album from 1992. Right after the ballad was released as a single he went into the MTV studio and did an acoustic version now found on the MTV unplugged album. Here is the complete Eric Clapton tears in Heaven guitar tabs to the original version.
This is a very personal song for Eric. He wrote it after his four years old son died in an accident in 19'91. Eric Clapton has not played Tears in heaven guitar tabs since 2004 since his life has changed since he wrote it. He does not feel the same way as he did in the early 90s and he doesn't want these feelings to come back. You can still pick up these tabs and do your own version.
Eric Clapton guitar tab and guitar video lesson for Tears in heaven. Learn how to play the song Tears in Heaven in acoustic guitar. Related pages are
Tears in heaven (Ver2) tabs
,
Tears in heaven acoustic tabs
,
Tears in heaven (Ver2) chords
,
Tears in heaven live chords
,
Tears in heaven chords
.
. .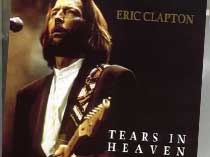 Eric Clapton: `Tears in Heaven'.


   D/Fm
                                        1. Would ...
                                        2. Would you ...

          F    A           E
+------------------+-------------0-----+------------------+
+--------2---2---2-+-3---3---2---2-----+-0---0---2---3----+
+--------2---2---2-+-2---2---2---2-----+-1---1---2---4----+
+------------------+-------------------+------------------+
+------------------+---------0-0-------+------------------+
+----2-----2-0-0--0+-2-2---2--------0--+---0---0---0---0/2+
                         if I saw ...

  Would it be ...If I saw ...
  Would ya help .....If I saw ...

   E     A/E  E7/5  F
+-----------------+-2---2---2---2----+-1---1---1---1----+
+--0---0---2---3--+-2---2---2---2----+-2---2---2---2----+
+--1---1---2---4--+-2---2---2---2----+-1---1---1---1----+
+--2--------------+-2---2---2---2----+------------------+
+-----------------+-4---4---4---4----+------------------+
+----0---0---0---0+-2-2---2---2---0--+-1-1---1---1---1--+
 ven?                  I must be ....

    A7/E              F   Bm7
+---0---0---0---0---+-------------------+------------------+
+---2---2---2---2---+-2-------------2---+-3---3---3---3----+
+---0---0---0---0---+-3-------4---------+-2---2---2---2----+
+-------------------+-2---2---2---------+------------------+
+-------------------+---------------1---+-2-2---2-2-2------+
+---0-0---0---0-----+-2-2---2---2-------+---------------0--+
         and carry on        'cause I ...
through night and day        'cause I ....

                       *to coda*
   D/E                  A              E/Gm7/E
+---------------------+-------------------------------+---------------------
+-------3---3---3-----+-------2/3/2-----5-------5---2-+--------2---2---2----
+-------2---2---2-----+-----2-------2---4-------4---2-+--------2---2---2----
+---------------------+-------------------------------+---------------------
+---------------------+-0-----------------------------+---------------------
+-------------0---0/2-+-----------------4---4-------2-+----2-----2-0-0---0--
           here in ...
           here in ...

   D/F E7sus4 E7
+------------------+-------------------+----------------+
+--3---3---3---3---+-2---2---2----2----+-3---3---3---3--+
+--2---2---2---1---+-2---2---2----2----+-2---2---2---1--+
+------------------+-------------------+----------------+
+------------------+-0-0---0---0-------+----------------+
+--2-2---2-0---0---+----------------0/2+-2-2---2-0---0--+

    A                   C           G/B          Am           D/F#
+---------------------+-----------------------3---0-+-----------------------
+---2---2---2---2-----+--------1----------0-------1-+--1-----3---3------3---
+---2---2---2---2-----+-----0-----0-------0-------2-+-----2------2---2------
+---------------------+-----------------------------+-----------------------
+---0-0---0---0---0/2-+-3-------------2-----------0-+-----------------------
+---------------------+-----------------------------+------------2--------2-
+
                            Time can bring you ....
knees

    G        D/F  G     C    G/B    Am
+-------------------+-----------------+-------0---------+
+-------3---3---3---+-----3---3---3---+-1---1---3-----1-+
+---0---0---2---2---+-0---0---2---0---+-----------------+
+-------------------+-----------------+-----------------+
+-------------------+-----------------+-3-3---3-2-2---0-+
+---3-3---3-2-2---2-+-0-0---0-2-2-3---+-----------------+
                                       Time can ...

             D/F          E         A/E  E7/5
+-------------------------+-------------------------+-0---------------+
+-----1--------------3----+-3-----3-----3-----3-----+-0---0---1---3---+
+--------2--0-----2-------+-0-----0-----2--2--------+-0---0---2---4---+
+-------------------------+-------------------------+-2---------------+
+--0--------0-------------+-------------------------+-----------------+
+--------------2--2-----3-+-3--3-----3--2--2-----0--+-------0---0---0-+
        have ya beggin' please,        ...





  A           E/Gm
+------------------------+-----------------+-----2---2---2---+
+-------2/3/2-----5----2-+-0---0---2---3---+-2---2---2---2---+
+-----2-------2---4----2-+-1---1---2---4---+-2---2---2---2---+
+------------------------+-----------------+-----------------+
+-0----------------------+-----------------+-----------------+
+-----------------4----2-+-0-0---0---0---0-+-2-2---2---2---2-+
                                             Beyond ...

  C
+---1---1---1---1----+-0---0---0---0----+---------2-----------+
+---2---2---2---2----+-2---2---2---2----+-2---2-----------2---+
+---1---1---1---1----+-1---1---1---1----+-3---3-------4-------+
+--------------------+------------------+-2---2---------------+
+--------------------+------------------+-----------------1---+
+---1-1---1---1---1--+-0-0---0---0---0--+-2-------2---4-------+
                       there's peace, ...

   Bm7                  D/E                 A              E/Gm7
+--------------------+--------------------+---------------------------+
+---3---3---3---3----+--3---3---3---------+-------2/3/2-----5---5---2-+
+---2---2---2---2----+--2---2---2---------+----2---------2--4---4---2-+
+--------------------+--------------------+---------------------------+
+---2-2---2---2------+--------------------+-0-------------------------+
+------------------0-+--------0-------0/2-+-----------------4-4-------+

  F E7sus4 E7    A
+------------------+-----------------+--------------------+
+------2---2---2---+-3---3---3-------+-2---2---2---2------+
+------2---2---2---+-2---2---2---7---+-2---2---2---2------+
+------------------+-------------6---+--------------------+
+------------------+-----------------+-0-0---0---0--------+
+---2----2-0-0---0-+-2-2---2-0---0---+----------------0/2-+

    A      E/G    A
+---------------0-----+-------------------+-----------------+
+-------5-----------2-+-------2---2---2---+-3---3---2---2---+
+---2-----------4---2-+-------2---2---2---+-2---2---2---2---+
+---------------------+-------------------+-----------------+
+---0-----------------+-------------------+---------0-0-----+
+-----------4-------2-+---2-----2-0-0---0-+-2-2---2-------0-+
3. Would you know my name                  ...

   E    A/E   E7/5    A              E/Gm7/E
+-------------------+--------------------------+--------------------+
+---0---0---2---3---+-------2/3/2-----5---5--2-+-------2---2---2----+
+---1---1---2---4---+----2--------2---4---4--2-+-------2---2---2----+
+-------------------+--------------------------+--------------------+
+-------------------+-0------------------------+--------------------+
+---0-0---0---0---0-+-----------------4--------+---2-----2-0-0---0--+
  ven?                   Would you ...

   D/F#             A/E               E               A/E     E7/5
+-----------------------------------+---------------------------------+
+---3-------3-------2-------2-------+-0-------0-------2-------3-------+
+---2-------2-------2-------2-------+-1-------1-------2-------4-------+
+-----------------------------------+---------------------------------+
+-----------------------------------+---------------------------------+
+---2---2-------2---0---0-------0---+-0---0-------0-------0-------0---+
        if I saw you in hea...

*coda*
  A           E/Gm7/E
+----------------------------+---------------------+
+-------2/3/2-----5---5----2-+--------2---2---2----+
+-----2-------2---4---4----2-+--------2---2---2----+
+----------------------------+---------------------+
+-0--------------------------+---------------------+
+-----------------4--------2-+-----2----2-0-0---0--+
  ven.                                      'Cause I

    Bm7                 D/E                 A             E/Gm
+-------------------+---------------------+--------------------------+
+---3---3---3---3---+---3---3---3---------+--------2-3-2----5--5--5--+
+---2---2---2---2---+---2---2---2---------+-----2--------2--4--4--2--+
+-------------------+---------------------+--------------------------+
+---2-2---2---2-----+---------------------+-0------------------------+
+-----------------0-+---------0-------0/2-+-----------------4-----2--+
  know    I don't belong        ...

         F E7sus4 E7    A
+-------------------+-----------------+-------------------------------------
+
+-------2---2---2---+-3---3---3---3---+----------2--3--2/3/2----------5--5--
+
+-------2---2---2---+-2---2---2---1---+-------2--------------4--2-4/6-------
+
+-------------------+-----------------+----2--------------------------------
+
+-------------------+-----------------+-0-----------------------------------
+
+-----2---2-0-0---0-+-2-2---2-0---0---+-------------------------------------
+



            "Tears In Heaven" (Unplugged)
 Intro:
  H     HP
 --]----------------]----------------]----------------]----------------]
 --]----232-5---5-2-]---2---2----2---]3---3---3---3---]2---2---2---2---]
 --]-------24---4-2-]---2---2----2---]2---2---2---1---]2---2---2---2---]
 --]--2-------------]----------------]----------------]----------------]
 --]0---------------]----------------]----------------]0-0---0---0---0-]
 02]--------4-4---2-]-2---2-0--0---0-]2-2---2-0---0---]----------------]

                    ]---5/75---------]
        2nd guitar  ]-------5/75---5-]
        part        ]-----------4/6--]
`                   ]----------------]
                    ]----------------]
  H     HP                                    H
 --]----------------]----------------]------------0---]----------------]
 --]----232-5---5-2-]---2---2----2---]3---3---2-3---0-]--0---2----3----]
 --]-------24---4-2-]---2---2----2---]2---2---2-----1-]--1---2----4----]
 --]--2-------------]----------------]0-0---0---------]----------------]
 --]0---------------]----------------]----------------]--------4/5-----]
 02]--------4-4---2-]-2---2-0--0---0-]--------------0-]0---0-----------]
    Would you know my ...

                                           H
                    ]---2-4-45--4-2-0]
        2nd guitar  ]----------------]
        part        ]----------------]
                    ]----------------]
                    ]----------------]
                    ]----------------]
        HP                                    H
   ]----------------]----------------]------------0---]----------------]
   ]2---232-5---5-2-]---2---2----2---]3---3---2-3---0-]--0---2----3----]
   ]2------24---4-2-]---2---2----2---]2---2---2-----1-]--1---2----4----]
   ]----------------]----------------]0-0---0---------]----------------]
   ]--0-------------]----------------]----------------]--------4/5-----]
   ]--------4-4---2-]-2---2-0--0---0-]--------------0-]0---0-----------]
      Would it be the same              ...

   ]----2-----2-----]----1-----1-----]----0-----0-----]----------------]
   ]--2-----2-----2-]--2-----2-----2-]--3-----3-----3-]----------------]
   ]--2-----2-----2-]--1-----1-----1-]--0-----0-----0-]3---3----4---6--]
   ]----------------]----------------]----------------]4---4----4---6--]
   ]----------------]----------------]----------------]----------------]
   ]2-----2-----2---]1-----1-----1---]0-----0-----0---]--2---2/4-4/6---]
         I must be    strong            ...

   ]----------------]----------------]
   ]----3-----3---3-]3-3---3---------]
   ]----2-----2---2-]2-2---2---------]
   ]--4-----4-----4-]2-2---2---------]
   ]2-----2-----2---]----------------]
   ]----------------]----------------]
    know I don't belong here in heaven  .........

   Before the next verse the part of the 2nd guitar goes like this:

    H H HP P
   ]----------------]
   ]----232---------]
   ]--24---42-------]
   ]24-------42-----]
   ]----------------]
   ]----------------]

   Bridge:

 --]----------------]--------2---2---]----------------]--------------]
 --]----1-------1---]----1---3---3--2]----2-------2---]----2--1--1---]
 --]----0-------0---]----0---2---2--0]----0-------0---]----0--0--0---]
 --]--2-------2-----]--2-----0-0-0--0]----0-----0-----]--0----2--2---]
 02]3-----3-2-----2-]0---------------]----------------]--------------]
 --]----------------]---------------3]--3---3-2-----2-]0------0--2---]
       Time can bring you down ...

   ]----------------]--------2---2---]----------------]--------------]
   ]----1-------1---]----1---3---3--2]----2---3---3---]0---0---2----3]
   ]----0-------0---]----0---2---2--0]----0---2---2---]3---3---2----4]
   ]--2-------2-----]--2-----0-0-0--0]----0-----------]--------------]
   ]3-----3-2-----2-]0---------------]----------------]----------4/5-]
   ]----------------]---------------3]--3---3-2-2---2-]0-0---0-------]
    time can break your heart  Have ...




solo guitar interpretation, so i added some notes probably where there
aren't any in the real song ... if you don't have a band behind you to
provide texture, you gotta make do :-)

daishi



e|---------|
B|---------|
G|---------|
D|---------|
A|---------|
E|-0--h2---|


* *Aintro* *

e|---------------------------------0---------------0---------------|
B|-----------------2h3p2-----------------------------------2-------|
G|---------2---------------2-------1---------------1-------2-------|
D|-----------------------------------------------------------------|
A|-0---------------------------------------------------------------|
E|---------------------------------4-------4---------------2-------|
1.
2. ven
3. ven
4. ven

e|-----------------------------------------------------------------|
B|-----------------2---------------2---------------2---------------|
G|-----------------2---------------2---------------2---------------|
D|-----------------------------------------------------------------|
A|-----------------------------------------------------------------|
E|---------2---------------2-------0-------0---------------0-------|

e|-----------------------------------------------------------------|
B|-3---------------3---------------3---------------3---------------|
G|-2---------------2---------------2---------------1---------------|
D|-----------------------------------------------------------------|
A|-----------------------------------------------------------------|
E|-2-------2---------------2-------0-------0-------0-------0-------|
(on 3., go to *C* after the above measure, and return to *A* afterwards)

e|-----------------------------------------------------------------|
B|-2---------------2---------------2---------------2---------------|
G|-2---------------2---------------2---------------2---------------|
D|-----------------------------------------------------------------|
A|-0-------0---------------0-------0-------0-----------------------|
E|---------------------------------------------------------0--h2---|


* *A* *

e|---------------------------------0---------------0---------------|
B|-----------------2h3p2-----------------------------------2-------|
G|---------2---------------2-------1---------------1-------2-------|
D|-----------------------------------------------------------------|
A|-0---------------------------------------------------------------|
E|---------------------------------4-------4---------------2-------|
1.                 would   you     ...
2.                 would   you     ...
3. (solo instead of vocals)
4.                 would   you     ...

e|-----------------------------------------------------------------|
B|-----------------2---------------2---------------2---------------|
G|-----------------2---------------2---------------2---------------|
D|-----------------------------------------------------------------|
A|-----------------------------------------------------------------|
E|---------2---------------2-------0-------0---------------0-------|

e|-----------------------------------------------------------------|
B|-3---------------3---------------2---------------2---------------|
G|-2---------------2---------------2---------------2---------------|
D|-----------------------------------------------------------------|
A|-----------------------------------------------------------------|
E|-2-------2---------------2-------0-------0---------------0-------|
1.                 if      i       saw     ...
2.                 if      i       saw     ...
4.                 if      i       saw     ...

e|-----------------------------------------------------------------|
B|-0---------------0---------------2---------------3---------------|
G|-1---------------1---------------2---------------4---------------|
D|-----------------------------------------------------------------|
A|-----------------------------------------------------------------|
E|-0-------0---------------0---------------0---------------0-------|
1. ven
2. ven
4. ven

e|---------------------------------0---------------0---------------|
B|-2---------------2h3p2-----------------------------------2-------|
G|-2-----------------------2-------1---------------1-------2-------|
D|-----------------------------------------------------------------|
A|-0-------0-------------------------------------------------------|
E|---------------------------------4-------4---------------2-------|
1.                 would   it      ...
2.                 would   you     ...
4.                 would   it      ...

e|-----------------------------------------------------------------|
B|-----------------2---------------2---------------2---------------|
G|-----------------2---------------2---------------2---------------|
D|-----------------------------------------------------------------|
A|-----------------------------------------------------------------|
E|---------2---------------2-------0-------0---------------0-------|

e|-----------------------------------------------------------------|
B|-3---------------3---------------2---------------2---------------|
G|-2---------------2---------------2---------------2---------------|
D|-----------------------------------------------------------------|
A|-----------------------------------------------------------------|
E|-2-------2---------------2-------0-------0---------------0-------|
1.                 if      i       saw     ...
2.                 if      i       saw     ...
4.                 if      i       saw     ...

e|-----------------------------------------------------------------|
B|-0---------------0---------------2---------------3---------------|
G|-1---------------1---------------2---------------4---------------|
D|-----------------------------------------------------------------|
A|-----------------------------------------------------------------|
E|-0-------0---------------0---------------0---------------0-------|
1. ven
2. ven
4. ven


* *B* *

e|-----------------2-------------------------------2---------------|
B|---------2---------------2---------------2---------------2-------|
G|-2-------------------------------2-------------------------------|
D|-----------------------------------------------------------------|
A|-----------------------------------------------------------------|
E|-2-------------------------------2-------------------------------|
1.                         I       must            ...
2.                         I'll    find            ..
3.                         be-     yond            ...
4.                         I       must            ...

e|-----------------1-------------------------------1---------------|
B|---------2---------------2---------------2---------------2-------|
G|-1-------------------------------1-------------------------------|
D|-----------------------------------------------------------------|
A|-----------------------------------------------------------------|
E|-1-------------------------------1-------------------------------|
1. ong
2.
3. or
4. ong

e|-----------------0-------------------------------0---------------|
B|---------0---------------0---------------0---------------0-------|
G|-0-------------------------------0-------------------------------|
D|-----------------------------------------------------------------|
A|-----------------------------------------------------------------|
E|-0-------------------------------0-------------------------------|
1.                         and     car...
2.                         through ...
3.                         there's ...
4.                         and     car...

e|-----------------2-------------------------------2---------------|
B|---------2---------------2---------------2---------------2-------|
G|-3-------------------------------3-------------------------------|
D|-----------------------------------------------------------------|
A|-----------------------------------------------------------------|
E|-2-------------------------------2-------------------------------|
1. on                              Cause           ...
2. day                             Cause           ...
3. sure                            And             ..
4. on                              Cause           ...

e|-----------------------------------------------------------------|
B|-3---------------3---------------3---------------3---------------|
G|-2---------------2---------------2---------------2---------------|
D|-----------------------------------------------------------------|
A|-----------------------------------------------------------------|
E|-2-------2---------------2-------2-------2---------------2-------|
1.                         I       don't           ...
2.                         I       ....
3.                         there'll be             ...
4.                         I       ...

e|-----------------------------------------------------------------|
B|---------3-------3---------------3-------------------------------|
G|---------2-------2---------------2-------------------------------|
D|-----------------------------------------------------------------|
A|-----------------------------------------------------------------|
E|-0-------------------------------------------------------0--h2---|
1. ng                                      here	   ...
2. ay                                      here    ...
3. re                                      .....
4. ng                                      here	   ...
(return to *Aintro* after the above measure, except on 4.,
 in which case go to *Coda*)


* *C* *

e|-----------------------------------------------------------------|
B|-2---------------2---------------2---------------2---------------|
G|-2---------------2---------------2---------------2---------------|
D|-----------------------------------------------------------------|
A|-0-------0---------------0-------0-------0---------------0--h2---|
E|-----------------------------------------------------------------|

e|-----------------0-------------------------------0-------0-------|
B|-----------------1-------------------------------0-------1-------|
G|---------0---------------0---------------0---------------2-------|
D|-----------------------------------------------------------------|
A|-3-------------------------------2-----------------------0-------|
E|-----------------------------------------------------------------|
3.                 Time    can     ...

e|-----------------0---------------2---------------2-------3-------|
B|-----------------1---------------3---------------3-------0-------|
G|-----------------2---------------2---------------2-------0-------|
D|-----------------------------------------------------------------|
A|---------0---------------0---------------------------------------|
E|---------------------------------2-------2---------------3-------|
3.                 Time    can     ...

e|-----------------3-----------------------------------------------|
B|-----------------0---------------3---------------3-------0-------|
G|-----------------0---------------2---------------2-------0-------|
D|-----------------------------------------------------------------|
A|-----------------------------------------------------------------|
E|---------3---------------3-------2-------2---------------0-------|

e|-----------------------------------------------------------------|
B|-----------------0---------------3---------------3---------------|
G|-----------------0---------------2---------------0---------------|
D|-----------------------------------------------------------------|
A|-----------------------------------------------------------------|
E|---------0---------------0-------2-------2-------3-------3-------|

e|-----------------0-------------------------------0-------0-------|
B|-----------------1-------------------------------0-------1-------|
G|---------0---------------0---------------0---------------2-------|
D|-----------------------------------------------------------------|
A|-3-------------------------------2-----------------------0-------|
E|-----------------------------------------------------------------|
3.                 Time    can     ...

e|-----------------0---------------2---------------2-------3-------|
B|-----------------1---------------3---------------3-------0-------|
G|-----------------2---------------2---------------2-------0-------|
D|-----------------------------------------------------------------|
A|---------0---------------0---------------------------------------|
E|---------------------------------2-------2---------------3-------|
3.                 have    you     beg-            ...

e|-----------------3---------------------------------------0-------|
B|-----------------0---------------3---------------3-------0-------|
G|-----------------0---------------2---------------2-------1-------|
D|-----------------------------------------------------------------|
A|-----------------------------------------------------------------|
E|---------3---------------3-------2-------2---------------0-------|
3.                                         beg-    ...

e|-----------------------------------------------------------------|
B|-----------------------------------------------------------------|
G|-----------------------------------------------------------------|
D|-----------------------------------------------------------------|
A|-----------------------------------------------------------------|
E|---------------------------------------------------------0--h2---|
(return to *A*, still on 3.)


* *Coda* *
e|---------------------------------0---------------0---------------|
B|-----------------2h3p2-----------------------------------2-------|
G|---------2---------------2-------1---------------1-------2-------|
D|-----------------------------------------------------------------|
A|-0---------------------------------------------------------------|
E|---------------------------------4-------4---------------2-------|

e|-----------------------------------------------------------------|
B|-----------------2---------------2---------------2---------------|
G|-----------------2---------------2---------------2---------------|
D|-----------------------------------------------------------------|
A|-----------------------------------------------------------------|
E|---------2---------------2-------0-------0-----------------------|
4.                                                         Cause ...

e|-----------------------------------------------------------------|
B|-3---------------3---------------3---------------3---------------|
G|-2---------------2---------------2---------------2---------------|
D|-----------------------------------------------------------------|
A|-----------------------------------------------------------------|
E|-2-------2---------------2-------2-------2---------------2-------|
4. know                    I       ...

e|-----------------------------------------------------------------|
B|---------3-------3---------------3-------------------------------|
G|---------2-------2---------------2-------------------------------|
D|-----------------------------------------------------------------|
A|-----------------------------------------------------------------|
E|-0-------------------------------------------------------0--h2---|
4. ng                                      here	   ...

e|---------------------------------0---------------0---------------|
B|-----------------2h3p2-----------------------------------2-------|
G|---------2---------------2-------1---------------1-------2-------|
D|-----------------------------------------------------------------|
A|-0---------------------------------------------------------------|
E|---------------------------------4-------4---------------2-------|
4. ven   (rit.)

e|-----------------------------------------------------------------|
B|-----------------2---------------2---------------2---------------|
G|-----------------2---------------2---------------2---------------|
D|-----------------------------------------------------------------|
A|-----------------------------------------------------------------|
E|---------2---------------2-------0-------0-----------------------|

e|-----------------------------------------------------------------|
B|-3---------------3---------------3---------------3---------------|
G|-2---------------2---------------2---------------1---------------|
D|-----------------------------------------------------------------|
A|-----------------------------------------------------------------|
E|-2-------2---------------2-------0-------0-------0-------0-------|

e|-----------------------------------------------------------------|
B|----2------------------------------------------------------------|
G|---2-------------------------------------------------------------|
D|--2--------------------------------------------------------------|
A|-0---------------------------------------------------------------|
E|-----------------------------------------------------------------|