The Black Keys - "Lonely boy" - Guitar tab
Lonely boy by The Black Keys guitar tab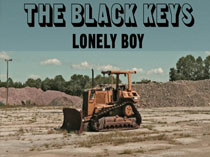 Lonely Boy is the first single from The Black Key's seventh studio album "El Camino". The whole album has a very raw sound, with guitar and drums being recorded live in studio. Keep it raw while playing these guitar tabs.
Lonely Boy and the whole El Camino album was recorded in guitarist Dan Auerbach's studio in Nashville. The albums is produced by drummer Patrick Carney and Danger Mouse who is a freind of both Carney and Auerbach.
Related pages are Lonely Boy Video Tutorial, Lonely Boy (Ver2) Tabs, Lonely Boy (Ver2) Chords, Lonely Boy Chords, Lonely Boy Bass Tabs.
.
Respect the tabbers, always rate and comment!
---------------------------|
---------------------------|
---------------------------|
---------------------------|       X4
---------------------------|
---------------------------|
2-2-2-2-5-2-2-2-2-0--------|


------------------------------------|
------------------------------------|
------------------------------------|    X2
------------------------------------|
------------------------------------|
2-2-2-2-2-2-2-2-5-5-5-5-5-5-5-5-----|

Verse
------------------------------|
------------------------------|
9-9-9-9-------9-9-9-9---------|       X2
7-7-7-7-------7-7-7-7---------|
--------7-8-7--------7-8-7----|
------------------------------|


------------------------------------|
------------------------------------|     Not sure on this part
9-9-9-9------7-7-7-7--14-14-14------|
7-7-7-7------5-5-5-5--12-12-12------|
------------------------------------|
------------------------------------|

Chorus
--------------------------------|
--------------------------------|
--------------------------------|
2-2-2-2-2-2-2-2-5-5-5-5-7-7-7-7-|
0-0-0-0-0-0-0-0-3-3-3-3-5-5-5-5-|