The Beatles - "Let it be" Guitar tab
The famous song Let it be is about Paul McCartneys' mother who died of cancer when he was fourteen. Beatles recorded several versions of it in 1969 and it was released on the album with the same name the year after. These The Beatles Let it be guitar tabs are among the most popular tabs from the Beatles catalog.
Beatles have released several version of the song on albums and singles. Some is in mono, some in stereo while other is different in lyrics and guitar solos. The song is credited both Lennon and McCartney but it was only Paul who penned it. It was released as a single after the fab four split up. It is a cool song to play on guitar so learn to play it with these Beatles Let it be guitar tabs.
The Beatles guitar tab and guitar video lesson for Let it be. Songs and Techniques here! Related pages are
Let it be (Ver3) chords
,
Let it be (Ver2) chords
,
Let it be chords
,
Blackbird easy tabs
,
Here comes the sun tabs
.
. .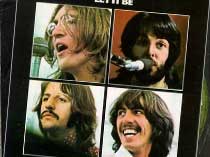 This is the famous song Let it Be, by the Beatles. Paul McCartney sang and played bass and piano, and George did the lead.  Ringo did the drums.  I don't
know what John played.

VERSE:

      C            G            Am           F
|------------|------------|------------|------------|
|------------|------------|------------|------------|
|------------|------------|------------|------------|
|------------|------------|------------|------------|
|------------|------------|------------|------------|
|------------|------------|------------|------------|


      C            G        F  Em  Dm        C
|------------|------------|---|---|---|-------------|
|------------|------------|---|---|---|-------------|
|------------|------------|---|---|---|-------------|
|------------|------------|---|---|---|-------------|
|------------|------------|---|---|---|-------------|
|------------|------------|---|---|---|-------------|


CHORUS:

      Am          Am/G          F            C
|------------|------------|------------|------------|
|------------|------------|------------|------------|
|------------|------------|------------|------------|
|------------|------------|------------|------------|
|------------|------------|------------|------------|
|------------|------------|------------|------------|


      C            G        F  Em  Dm        C
|------------|------------|---|---|---|-------------|
|------------|------------|---|---|---|-------------|
|------------|------------|---|---|---|-------------|
|------------|------------|---|---|---|-------------|
|------------|------------|---|---|---|-------------|
|------------|------------|---|---|---|-------------|


|----5------3--1----0--------------------------|
|----6------5--3----1------3--1--0-------------|
|--------------------------4--2--0-------------|
|--------------------------------------2---0---|
|--------------------------------------3---2---|
|----------------------------------------------|


LEAD:

|----------------------------------------------------------------|
|----------------------------------------------------------------|
|---5----5-------------------------------------5---7b---7br---5--|
|---5h7--5-------------------5--5-----5---5h7--------------------|
|------------7\5---3---3/7---------7-----------------------------|
|----------------------------------------------------------------|

|--------8------------------5------------------------------------|
|---------------------------5------------------------------------|
|--7/9------9\7---5h7---7b-----7br---5---------------------------|
|---------------------------------------7h5---7h5----------------|
|--------------------------------------------------7\5--3h5--3---|
|----------------------------------------------------------------|

|--------------------------------------------------------8--10b--|
|---------------------------8-------8-------8--10--8h10----------|
|--------5--5------5---7/9-----7/9-----7/9-----------------------|
|---5h7---------7------------------------------------------------|
|----------------------------------------------------------------|
|----------------------------------------------------------------|

|--10br---8h10--8----8--15b--------------------------------------|
|------------------------------15br---13--15---15br---13h15--13--|
|----------------------------------------------------------------|
|----------------------------------------------------------------|
|----------------------------------------------------------------|
|----------------------------------------------------------------|


Here is a transcription of the solo in another version of Let It Be.
I'm not exactly sure which album this version is off of.

Note the beat placement, which is just an approximation,
but as far as timing goes, it's obviously completely off so you're on
you're on.


(Begins approx 1:58, after organs)

   |   |     |   |      |    |       |      |
|----------------------------------------------------------------|
|----------------------------------------------------------------|
|----------------------------------------------------------------|
|------------------------5-7p5-----------------------------------|
|--3-3-7p5-3-5-5-7-3--/7-------7/5-3-----------------------------|
|----------------------------------------------------------------|

     |     |          |          |    |     |     |     |
|----------------------------------------------------------------|
|-----------------------8-10p8-----------------------------------|
|----------------5--7/9--------9/7-5--7-5------------------------|
|------55--5--7---------------------------7-5--------------------|
|--5/7----------------------------------------7-5-3--------------|
|----------------------------------------------------------------|

     |      |   |      |      |    |       |      |
|----------------------------------------------------------------|
|-------------------------------8-10p8---------------------------|
|--------------/9-7-5h7------7/9--------9/7-5--------------------|
|---------5/7-5--------7-5(7)------------------------------------|
|--5/7-3---------------------------------------------------------|
|----------------------------------------------------------------|

       |       |      |       |      |        |   |      |
|------------8--------12-10-8------------------------------------|
|--------------10-8-----------10-8---10p8----------------Let it be..
|------5-7/9--------9--------------9------9/7-5h7-5--------------|
|--5-7-----------------------------------------------------------|
|----------------------------------------------------------------|
|----------------------------------------------------------------|




                          Let It Be           Beatles
From the Let It Be Album
Transcribed by K Woodgate
Easy melody Version

          C              G                 Am         G  Fmaj7
e|--------------|----------------|---------0---0-|-0------------|
B|--------------|----------------|-1---3---1---1-|-1--3--3-----1|
G|-0---0--0---0-|-2------0-----0-|-0-------------|----4--2------|
D|--------2-----|-----2----------|---------------|-------2------|
A|--------------|--------2-------|---------------|--------------|
E|--------------|----------------|---------------|--------------|
  When I find my-self ...

   F   C                  G                    F  C   Dm7  C
e|-----0-----0----1---|-0-0-------0--|--------------|--------------
B|-1------------------|---0---3------|-3-3-----1----|--------------
G|-2---0-----0----2---|-0-----4------|------------0-|--------------
D|-3------------------|--------------|--------------|--3---2-------
A|--------------------|--------------|--------------|--------------
E|--------------------|--------------|--------------|--------------
   me, Speak-ing words of ...

      C              G                 Am             G    F
e|--------------|----------------|---------0---0----|--------------|
B|--------------|-1------------1-|-3--3----1---1----|-3--3----1--1-|
G|-0---0--0---0-|-2--0---0-----0-|----4-------------|-4--2----2--2-|
D|--------2-----|-3--------------|------------------|--------------|
A|--------------|----2-----------|------------------|--------------|
E|--------------|----------------|------------------|--------------|
  And in my hour of dark-...

   C                   G                   F    C Dm7   C
e|-0-----0----1----0-|-0-------0----|----------------|----------
B|-------------------|-0---3------3-|-3-----1--------|----------
G|-0-----0----2----0-|-----4--------|----------0-----|----------
D|-------------------|--------------|--------------3-|--2-------
A|-------------------|--------------|----------------|----------
E|-------------------|--------------|----------------|----------
   Speak-ing words ...

          G       Am7        G              F                      C
e|-0------------|-0---3--5---5-3-|-3--3--0--0--|--------------|-0-------
B|----3--1---1--|-1----------0---|-0-----------|-3--1---------|----1----
G|-0---------2--|----------------|-------------|----2---2---0-|-0-------
D|--------------|----------------|-------------|--------------|----2----
A|--------------|----------------|-------------|--------------|---------
E|--------------|----------------|-------------|--------------|---------
  Let it be, ---- Let it be, ...

                        G                F   C   Dm7  C
e|-0----0---1-----0-|-0-------0-----|--------------|--------------|
B|------------------|-0--3--------3-|-3--1---------|--------------|
G|-0----0---2-----0-|----4----------|--------0-----|--------------|
D|------------------|---------------|------------3-|--2-----------|
A|------------------|---------------|--------------|--------------|
E|------------------|---------------|--------------|--------------|
   Whis-per words of ...



   F  Em Dm C   Bb F  G  F   C  F         C        G   F  C  G  F   G  C

e|-5--3--1--0-|----------1-|-0----------|-0----------|------------|------|
B|----0-------|-3--1--3----|----1--1--3-|----3--1----|-1--1--0--1-|-3--1-|
G|-5-----2--0-|-------4--2-|-0--2--2----|-0--------0-|-2-----0--2-|-4----|
D|------------|-3--3-------|------------|-------2--0-|----2-------|----2-|
A|------------|------------|------------|------------|------------|------|
E|------------|------------|------------|------------|------------|------|