The Beatles - "Blackbird easy" Guitar tab
Here is the easy guitar tabs for the Beatles song Blackbird. It is considered a Beatles song but Paul McCartney is performing it alone. It is in G, with bass and guitar progressing mostly in parallel. Paul played a Martin D 28 acoustic guitar for the song.
The song is a fun to play as it has the special McCartney combination of picking and finger-strumming. The bass notes are played by the thumb on the downbeat. Keep this in mind when playing these Beatles Blackbird easy guitar tabs. Blackbird is hard to play but this is the easy version which should get you started right away. An acoustic guitar will give you the best result, but electric is fine as well.
The Beatles guitar tab and guitar video lesson for Blackbird easy. Learn how to play Blackbird by The Beatles in this Finger Style lesson. Related pages are
Here comes the sun tabs
,
Blackbird tabs
,
Something tabs
,
Sweet little sixteen bass tabs
,
Ask me why tabs
.
. .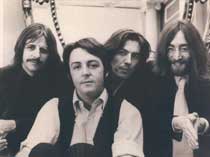 Song: Blackbird (Lennon/McCartney)
Artist: The Beatles
Album: The Beatles (White Album) 1968


Intro:

E|-----------------------------------------------|
B|-0-----1-----3-----12---------12--12--------12-|
G|----0-----0-----0-----0--------------0---------|
D|-----------------------------------------------|
A|-------0-----2-----10-----10------10-----10----|
E|-3---------------------------------------------|

***********************************************************************
From now on play Part I singing just the #1 lyrics
***********************************************************************
Part I:

E|-----------------------------------------------|
B|-0-----1-----3-----12---------12--12--------12-|
G|----0-----0-----0-----0--------------0---------|
D|-----------------------------------------------|
A|-------0-----2-----10-----10------10-----10----|
E|-3---------------------------------------------|

1. Blackbird singing in the....night
2. Blackbird singing in the....night

E|--------------------------------|------------------|
B|-5-----8-----7-----10-----8-----|---8--8-------8---|
G|----0-----0-----0------0-----0--|---------0--------|
D|--------------------------------|------------------|
A|-3-----4-----5-----6------7-----|7-----6-----6-----|
E|--------------------------------|------------------|

1. Take these broken wings...fly  |
2. Take these sunken eyes...see   |

E|-------------------------------------|
B|-7-----8-----5-------5--4--------4---|
G|----0-----0-----0----------0---------|
D|-------------------------------------|
A|-5-----7-----3-----3----3-----3------|
E|-------------------------------------|

1. All your life...
2. All your life...

E|-------------------------------------------|
B|-3--------3--2--------2--1--1--------1--0--|
G|----0-----------0--------------0-----------|
D|-------------------------0--0-----0--------|
A|-2-----2-----0-----0-----------------------|
E|----------------------------------------3--|

1. You were only waiting...arise
2. You were only waiting...be free

***********************************************************************
When you get here repeat Part I singing just the #2 lyrics
Then you move on to Part II
***********************************************************************

Part II:
                                        **************
E|-------------------------------------||------------|| You will play 
B|-10-----8-----6-----5-----3--------3-||-5-------5--|| it two times,
G|-----0-----0-----0-----0-----0-------||----0-------|| but ingnore
D|-------------------------------------||------------|| this second
A|-8------7-----5-----3-----1-----1----||-3-----3----|| measure when
E|-------------------------------------||------------|| you repeat it.

1. Blackbird fly                       ||
2. Blackbird fly                       ||


Part III:

E|------------------------------------------------------------|
B|-2--------2--1--------1--0--5--3--2--------2--1--------1--0-|
G|----0-----------0--------------------0-----------0----------|
D|-------------0-----0--------------------------0-----0-------|
A|-1-----1--------------------3--2--0-----0-------------------|
E|-------------------------3--------------------------------3-|

1. Into the light of...black night

Part IV:

E|-----------------------------------------------|
B|-0-----1-----3-----12---------12--12-------12--|
G|----0-----0-----0-----0--------------0---------|
D|-----------------------------------------------|
A|-------0-----2-----10-----10------10----10-----|
E|-3---------------------------------------------|

E|---------------------------------------|
B|12-----12-----12----12-----12----------| After these bar
G|---0------0------0------0--------------| take a short
D|---------------------------------------| break of
A|10-----10-----10----10-----------------| 5 seconds...
E|-------------------------------11\0----|

E|---------------------------------------------|
B|-0-----1-----3-----5-----3-----2-----1-----0-|
G|----0-----0-----0-----0-----0-----0-----0----|
D|-------------------------------------0-------|
A|-------0-----2-----3-----2-----0-------------|
E|-3-----------------------------------------3-|

***********************************************************************
When finished go back to Part I and sing the #1 lyrics again
***********************************************************************

Song structure:

Intro (1x)
Part I (2x)
Part II (2x)
Part III (1x)
Part IV (1x)
Part I (1x)