The Beatles tabs and chords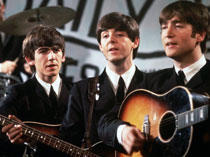 The Beatles was formed in England in 1960 and soon received enormous popularity world-wide. They are still the favorite and inspiration for many fans. Guitar players have learned to play their instrument with The Beatles in their speakers and still many come to this site for The Beatles tabs and chords.
The Beatles are a very important chapter in the history of popular music. They started of playing Skiffle as well as rock and roll inspired by the 50s. As time went on they worked in many genres ranging from pop ballads to psychedelic rock. You will find Beatles tabs for all the songs and styles below. All things must come to an end and The Beatles had their last days as a band in 1970. After the breakup all members started on their own solo-careers.
The Beatles guitar tabs and chords
Submit The Beatles guitar tabs here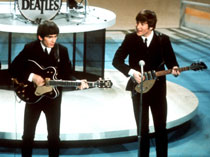 The Beatles made innovative use of technology in the studio and were years ahead of their time when it comes to experimentation and sound. They used accidental guitar feedback and other effects just because it did sound good. Beatles songs are fun and easy to play so enjoy the Beatles guitar tabs below.
There were two guitarist in The Beatles, john Lennon and George Harrison, and you will find Beatles guitar tabs for both of them below. His mother taught John how to play the banjo, and then bought him an acoustic guitar. At sixteen John Lennon played rhythm guitar with the pre-Beatles band Quarrymen. During his life he used many different brands like Rickenbacker, Gibson and Fender. George Harrison's guitar playing was varied and flexible. He had the lead guitar style of the early 60s. You can hear his nice plucking guitar style on early records.
The Beatles bass tabs
Submit The Beatles bass tabs here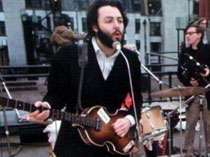 Paul McCartney, Beatles bass player, is together with John Lennon regarded as one of the most influential and successful musical partnership of the 20th century. In the band, as you can see in the Beatles bass tabs below, bass was an important part of the music. Paul did also vocals for the band.
Paul McCartney is mentioned in the book Guinness world record as the most commercially successful songwriter in the history of popular music. You will find his style and music in the Beatles bass tabs below. After leaving The Beatles, McCartney launched a successful solo career and formed the band Wings with his first wife. You also find Wings tabs and his songs as a solo artist here on the site.