AC/DC - "Back in black" Guitar tab
Back in black is the tittle track from AC/DC's best selling album released in 1980. With the album came a lot of changes for the band, not only a new vocalist but it was their final step into being a mega famous band. The intro riff, as seen in the AC/DC Back in black guitar tabs below, is very famous and was tribute to their former singer who died the year before.
VH1 once named it the second best hard rock or heavy metal song of all time. No wonder, it is very good, catchy and easy to remember. The first two notes is enough and you know what song the radio is playing. The AC/DC back in black guitar tabs are always fun to play and it is a song that is always a hit on parties. No wonder why bands like Red hot chilli peppers, Kid Rock, Shakira, Beastie boys and others have covered it or used samples from it.
AC/DC guitar tab and guitar video lesson for Back in black. Here's my lesson on how to play Back in Black. Excuse the sloppiness! This is just the basic first part of verse. Related pages are
Back in black (Ver3) tabs
,
Back in black album tabs
,
Back in black (Ver2) tabs
,
Back in black intro tabs
,
Back in black bass tabs
.
. .
This 'Back in black' by AC/DC guitar tab also include lyrics.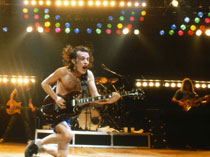 Song:     Back In Black
Artist:   AC/DC
Album:    Back In Black


      h - hammer on
      p - pull off
      b - bend string up
      r - release bend
      / - slide up
      \ - slide down
      v - vibrato
      x - muted, struck string
    (12)- ghost note

Note: Play these chords hard!

This is played through the beginning and the verses:
   (I first played these with power chords, but open
chords sound
	MUCH better and closer to the album's sound)
    E    D D D   A A A
e---0----2-2-2---0-0-0--|----3p0----------------------------------|
b---0----3-3-3---2-2-2--|--------3p0------------------------------|
g---1----2-2-2---2-2-2--|------------2-0--------------------------|
d---2----0-0-0---2-2-2--|-----------------------------------------|
a---2------------0-0-0--|-----------------------------------------|
e---0-------------------|-----------------------------------------|
                                     ^(put a little
vib.on this A)

    E    D D D   A A A
e---0----2-2-2---0-0-0--|-----------------------------------------|
b---0----3-3-3---2-2-2--|-----------------------------------------|
g---1----2-2-2---2-2-2--|-----------------------------------------|
d---2----0-0-0---2-2-2--|-----------------------------------------|
a---2------------0-0-0--|-----------------------------------------|
e---0-------------------|-------7-3-7-4-7-5-7-6-------------------|


It's not on the album, but I like to throw this in
occasionaly:
    E    D D D   A A A
e---0----2-2-2---0-0-0--|----15p12--------------------------------|
b---0----3-3-3---2-2-2--|----------15p12--------------------------|
g---1----2-2-2---2-2-2--|-----------------14-12-------------------|
d---2----0-0-0---2-2-2--|-----------------------------------------|
a---2------------0-0-0--|-----------------------------------------|
e---0-------------------|-----------------------------------------|
                                          ^^(vib. on
this A)

The solo starts at 1 minute 50 seconds
This is the rythem plays under the solo.
This is played through out the solo.
e---------------------|-------------------------------------------|
b---------------------|-------------------------------------------|
g---------------------|-------------------------------------------|
d-9-----7-7-7-----7-7-|-7-----------------9-9-9-----9-9-9---9-9-9-|
a-7-----5-5-5-----4-4-|-4-----------------7-7-7-----7-7-7---7-7-7-|
e-0-----0-0-0-----0-0-|-0-----------------0-0-0-----0-0-0---0-0-0-|

e----------------------|------------------------------------------|
b----------------------|---------------2------0--------2----------|
g----------------------|---------------2------1--------2----------|
d-7-----7-7-7------7-7-|-7-------------2------2--------2----------|
a-9-----5-5-5------4-4-|-4--------2----0------2--------0----------|
e-0-----0-0-0------0-0-|-0--------0-------------------------------|

Now for the main solo:
The solo starts ate 1 minute 50 seconds


e--------------------------|---------------------------------------|
b--------------------------|---------------------------------------|
g--------------------------|------------------0-2--3p2p0--2--------|
d--------------------------|----------------------------------2----|
a-------7vvvvv---5---5vvvv-|-4--4vvvvv-----2-----------------------|
e--0-----------------------|---------------------------------------|

e-----------------------------|------------------------------------|
b-----------------------------|------------------------------------|
g-----------------------------|-------------------7--7--7---x---7--|
d-----------------------------|------------------------------------|
a-------7vvvvvv----5---5vvvvv-|-4---4vvvvvvv-----------------------|
e--0--------------------------|------------------------------------|

e---------------------------|--------------------------------------|
b------------5--8-----------|----8-10h11p10p8--10-8----------------|
g----------------7b9-9vvv---|--9---------------------9-7-9--12--12-|
d--7b9vvvvv-----------------|---------------------------------14---|
a---------------------------|--------------------------------------|
e---------------------------|--------------------------------------|

e---------------------------------|--------------------------------|
b-------15---15--15---------------|-------------------------15-----|
g-14b16---14b16---14b16r14p12-14vv|12-------12---14-12-14b16--14b16|
d---------------------------------|12h14-14---14-------------------|
a---------------------------------|--------------------------------|
e---------------------------------|--------------------------------|

e-----12--12-------------------------12----------------------------|
b--12--------15b17-15b17-15b17-15b17----15-12-----12---------------|
g----------------------------------------------14-----12
14b16-----|
d------------------------------------------------------------------|
a------------------------------------------------------------------|
e------------------------------------------------------------------|

e------------15----------------------------------------------------|
b--15--------------------------------------------------------------|
g----14b16-------16p14---12--14-----12b14vvvvvvv-----12--13--14----|
d--------------------------------14--------------------------------|
a------------------------------------------------------------------|
e------------------------------------------------------------------|

e------------------------------------------------------------------|
b--------14-----------------15-------------------------------------|
g-12-----14-------12h14b16-------14b16r14-12-14--------------------|
d----14--------14--------------------------------14vvvvv-----------|
a------------------------------------------------------------------|
e------------------------------------------------------------------|

e----------------------------12------------------------------------|
b--15b17vvvvvvvvvvvvvv-----------15--12-------12-------------------|
g----------------------------------------14-------12---------------|
d-----------------------------------------------------14\x---------|
a------------------------------------------------------------------|
e------------------------------------------------------------------|

e---0-----------0--0------|-0---0-0-----------------12-------------|
b-0---3--5-----/5--3--3---|-2p0-2-2--------------12----15b17-------|
g--------4----------------|---------------/14b16----------------0--|
d-------------------------|----------------------------------------|
a-------------------------|----------------------------------------|
e-------------------------|----------------------------------------|
                                                      
Well i'm
e--0--------------0------0vvvv-|-0-----0vvvv-----------------------|
b--5--3--3-5vvv---5--0h2-3vvvv-|-2-0-0-2vvvv--14b15r14-12-14b15\---|
g------------------------------|--------------14b15r14-12-14b15\---|
d------------------------------|-----------------------------------|
a------------------------------|-----------------------------------|
e------------------------------|-----------------------------------|
  Back    in     Black
e-2--------2-----2---------|
b-3--------3-----3---------|
g-2--------2-----2---------|
d-0--------0-----0---------|
a--------------------------|
e--------------------------|

At the end of the song at 3 minutes 31 seconds there
is a small
solo :

Back in Black                        I wanna sat it
e--------------|-------------|------------------------------------|
b--------13b15-|-12b13---r12-|-10---------------------------------|
g--------------|-------------|------------------------------------|
d--------------|-------------|------------------------------------|
a--------------|-------------|------------------------------------|
e--------------|-------------|---------------------(12)\----------|
Then using the same rythem as the main solo:
e------------------------|-0-----0vvvv----------------------------|
b-5-3-3-5vv---3-2-2-3vvv-|-2-0-0-2--------12----------------------|
g------------------------|----------------12----------------------|
d------------------------|--------------------------14------------|
a------------------------|----------------------------------------|
e------------------------|----------------------------------------|

e------------------------|--------------------------12------------|
b-5-3-3-5vv---3-2-2-3vv--|-2-0-0-2vvvv-------15b17-----12--15b17--|
g------------------------|----------------------------------------|
d------------------------|----------------------------------------|
a------------------------|----------------------------------------|
e------------------------|----------------------------------------|

Repeat these last four bars and perhaps add some
variations until
end.
Well there it is if you have any comments or
surgestions mail them